We woke up about 4:40 ouch!!! We ate a big smoothie, and headed off to the lake. It was still really dark when got there and cars were backed up all the way down the road getting to the starting line. I was really amazed how many people were there. The wind was blowing and it was raining pretty hard. I was glad I brought my jacket for sure. We were a little hesitant to take out the nice camera because of the rain, but it lightened up enough to get a few
pre
race pics.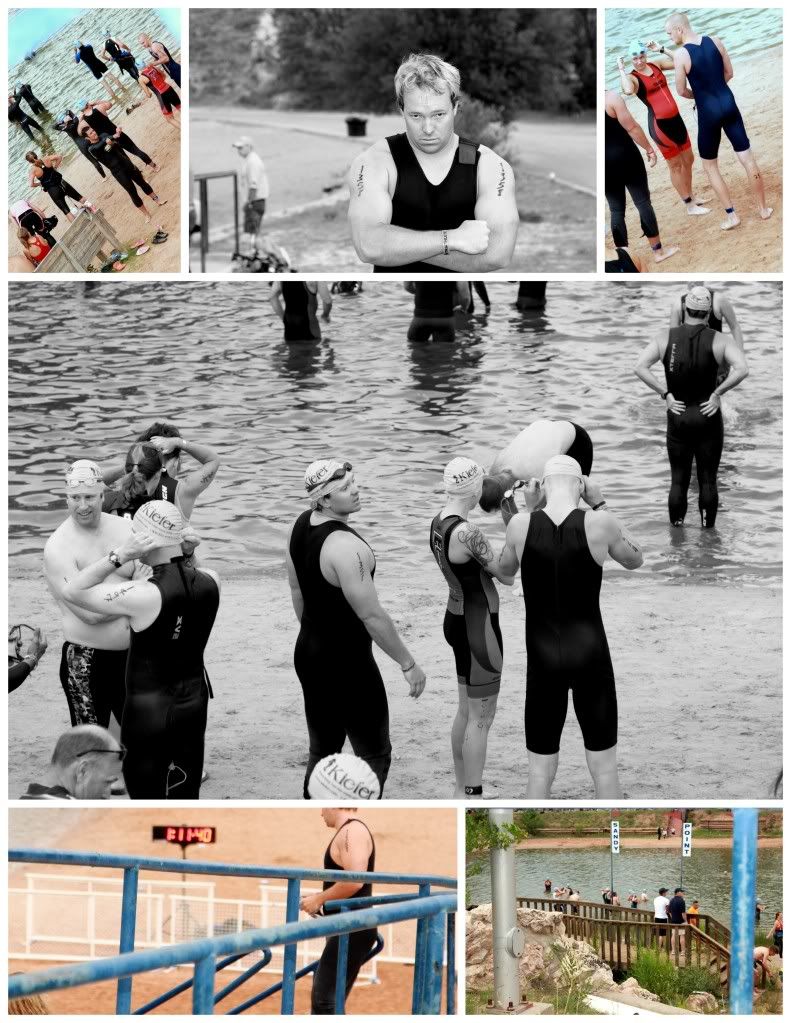 I trained only on a stationary bike, Nick never did the swim once, and B has been trying to finish school, work, and be the best husband and dad. I will preface with saying that.
Nick was ready that morning to drowned
The day before the race we found a road bike that a man would let me rent. We went and bought the shoes that click in and I jumped on the bike for about five minutes and road before everyone got here for the party. Not the brightest idea in the book. Not to mention it started pouring rain when I got the chip on my ankle and the roads were slick.
It was a tough up hill climb right at the beginning. I wasn't strapped in my shoe good and my foot came out. I could hardly get on and get going on flat ground much less a 35%incline, so very
angry
I
climbed
the first hill on foot!!! I was so bummed. At the top though I got back on and was in business. I ended up with 1:20 min for my time. So if you take into consideration the fact I couldn't get on to begin with, then I came off, walked the hill, and it was pouring cats and dogs, I probably got close to my
exact
training time which was about 1:11. So I guess I was pleased. I saw so many people crashing and getting road rash because of the rain. I was just glad I finished with no blood.
Brandon, was a rock star he finished us up with the run in 27 min. He did great!
We had lots of fun and are ready to train for another!
Thanks to all of our cheerleaders for rooting us on!!!
Mom Wendy
My Mom, Dad and Matt
Holly and Jo
and Anna!!!